Custom Pickguard Gallery
Fox Guitars is a fully-equipped custom pickguard fabrication shop capable of reproducing any pickguard to exact specifications. This includes electric and acoustic guitars, mandolins, mandolas, mando-cellos, banjos, and many more. There are never any set up fees so all you have to is supply a tracing, scan or some type of template and we will fabricate it. Quick turnaround and very reasonable prices.
If you don't see the pickguard you are looking for, we can fabricate just about any design you need. Custom pickguards are reasonably priced and turn around is quick, usually 5-7 days. We stock many templates for other pickguards, or you can supply your own template. You can choose from a variety of colors and materials we have available. Just let us know what you are looking for by contacting us by email. 
Left: Thank you very much Mr. Fox! The pickguard (Elvis Presley EJ-200 Replica Pickguard) came out spectacular and looks amazing on my EJ200. Definitely will reach back if I want any other custom pickguard. Jay O.
Here are some examples of custom pickguards Fox Guitars has fabricated:
Below left: 1964 Dove with Fox replacement pickguard - Courtesy of Elderly Instruments; c1960s Epiphone Frontier; 1961 Gibson ES-355 long pickguard - Mark Chatfield; 1936 ES-150 Charlie Christian Courtesy of Retrofret.com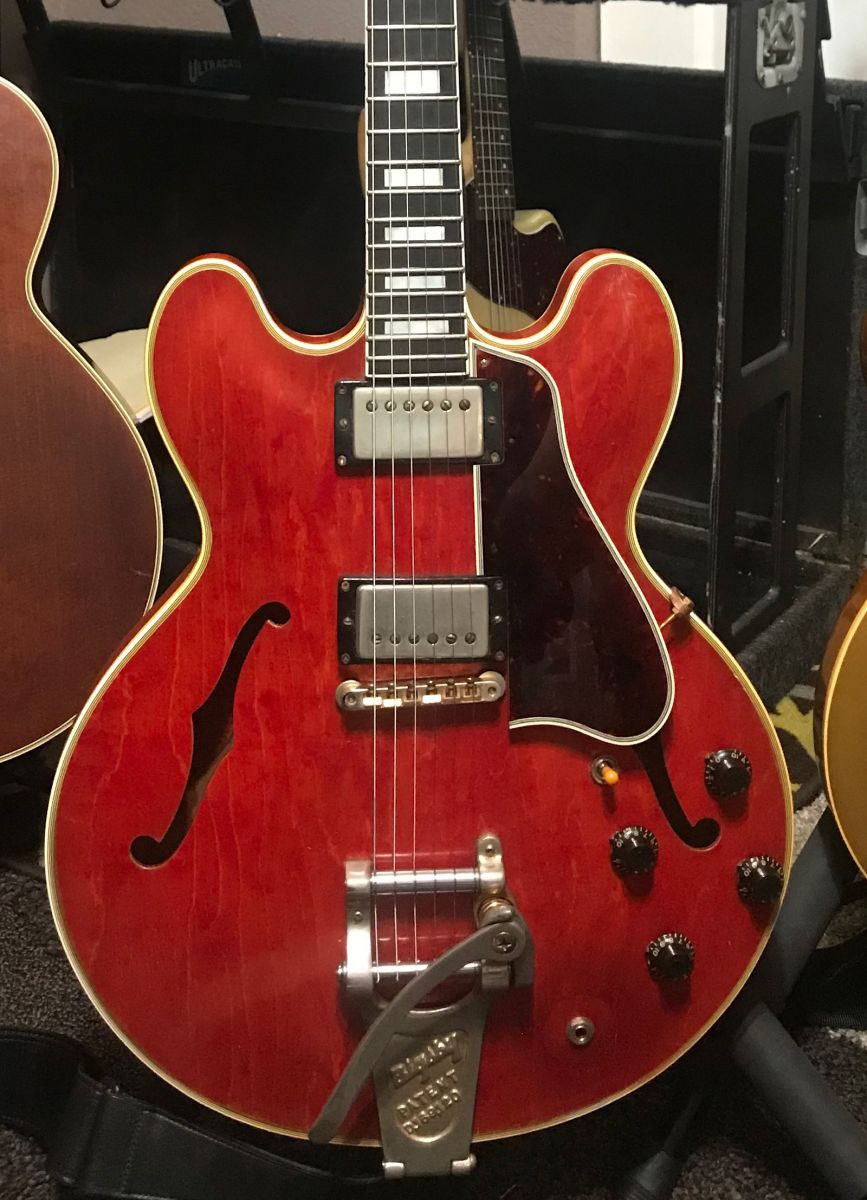 Below left: Loar LH-700 with Fox replacement pickguard - J. Pringle - Below center: SJ-200D Bob Dylan Player's Edition double pickguards. - E. Barkanic  Below Right: The Dove on Don Peterson's guitar.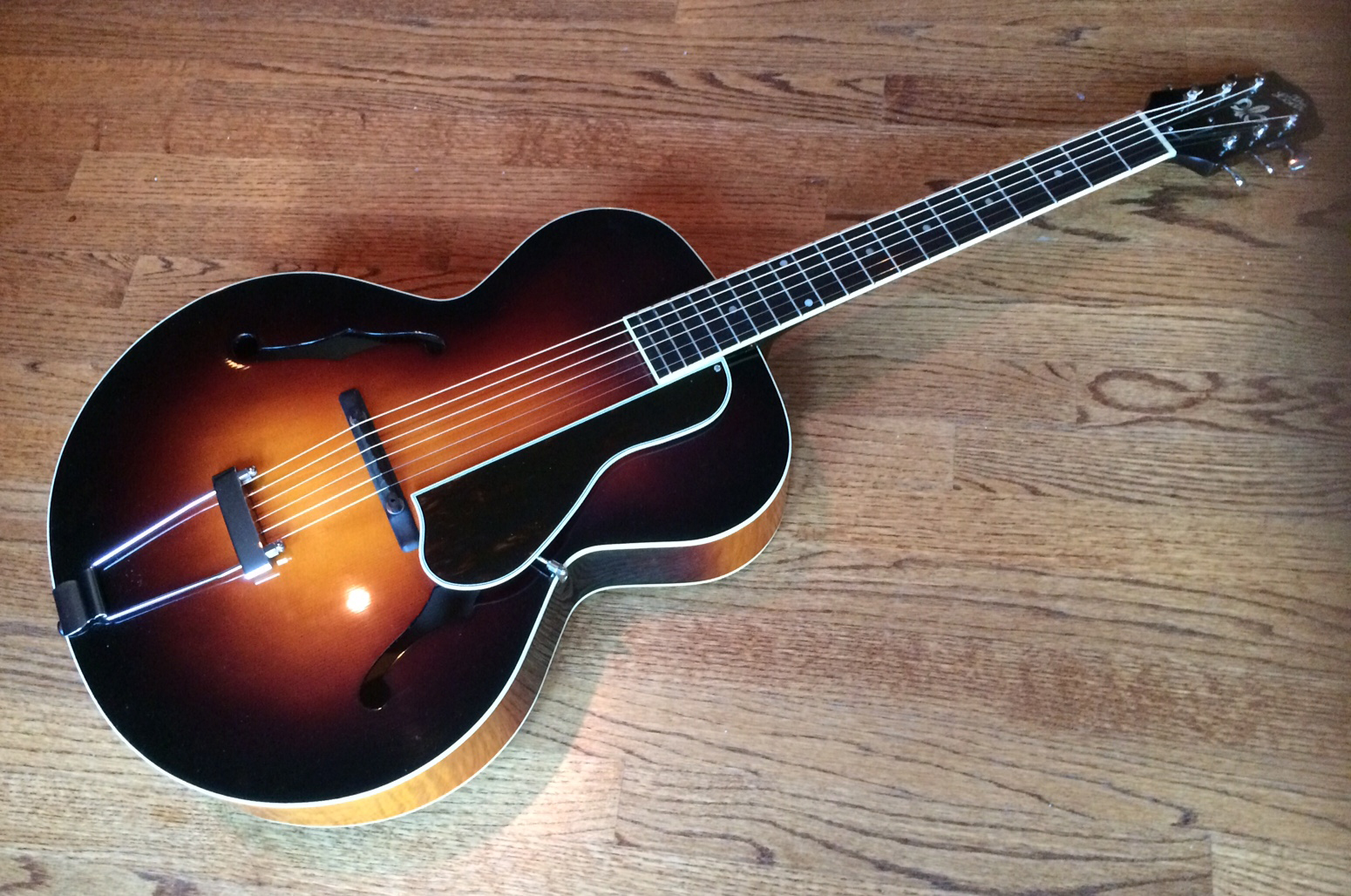 Below left: 1937 Gibson EM-150 electric mandolin with Charlie Christian pickup. Below center: 

1937 Gibson-made Recording King Roy Smeck Electric with replacement pickguard.  Both are d

ark tortoise shell with ivoroid binding. Courtesy of Retrofret.com Right: D'Angelico New Yorker pickguard shown on Mike Tachenko's guitar.

| | | |
| --- | --- | --- |
| | |   |
 

 

 

 

 

 

 

 

 

 

 

 

 

 

 

 

Super 400-CES OEM marble with 5-ply binding

 

 

 

 

 

 

 

 

 

Hummingbird double pickguard in classic celluloid tortoise shell with two-color design. Courtesy of Michael Thornton

 
| | |
| --- | --- |
| Custom engraved white pearl pickguard for Gretsch 6139. Courtesy of Brady Lee | A pair of custom Guild Artist Award pickguards, each wiith different pickup configurations. Courtesy of Michael Gauthier |
Other Customer Testimonials:
Great Custom Pickguard - Mandolin Cafe
"I received the custom bound tortoise pickguard you made and my wife and I both agree that it's just stunning and a real work of art.... yours is in another class. Gorgeous. Great work!" Rick, Sarasota 
"Got the guard. It's really beautiful thank you so much!" Robert B.
I got the pickguard installed on the customer's Guild Nightingale today.  It looks great and thanks for the quick turnaround on it. Mike Mass St Music
 

"Pickguard arrived today.  Looks great and fits great.  Very happy to have a replica on there that won't "out gas" all over the guitar." 

Stephen B.

---

"…guard arrived today. It's very good. Yes I like it. I will send you pics when it's installed. Thank you!" 

Peter

---

"Received pick guard yesterday. Looks great." 

Greg

---

"I received the Kalamazoo Pickguard, thank you very much, it is very nice." 

Jeen
These are some of the other brands of guitars we make custom pickguards for:
Stromberg

D'Angelico

National

Guild

Harmony

Regal

Kay

Martin

Washburn

Gretsch

Levin

Vox